The Journey to Work Programme is a very successful Scottish-Dutch collabouration, between the Dutch Foundation of Innovation Welfare 2 Work (DFW2W) and Werkcenter Scotland which is built on award winning good practices Future Move (2012) and Future Move II (2014 –Solving youth unemployment?). The Scottish especially requested to start up a similar youth employment scheme in Scotland in collabouration with DFW2W in 2011. Because of the Corona Virus the long running programme will be postponed for now. Currently the mobility flows of March/April and May are cancelled. It's hard to say when we will resume our recruitment and mobilities. For the most recent news in The Netherlands around Corona, click here
Adressing Youth Unemployment
In order to address structural causes of youth unemployment we have designed the Journey to Work Programme. Joblessness lasting more than 6 months is a major factor preventing young people from getting (re)hired, with potentially grave consequences: lost production, increased social spending, decreased tax revenue and slower growth. On a personal level the impact on the young job seeker is no less devastating and includes; loss of confidence & self-reliance, depending on social benefits, etc. In any given month, a newly jobless young worker has about 20 to 30 % chance of finding a new job. By the time s/he has been out of work for 6 months, though, the chance drops to 1 in 10. The skills mismatch on youth labour markets has become a persistent & growing trend.
Many of these young people are not only early-school leavers, lacking qualifications, relevant skills & work experience but more & more it affects third-level graduates who cannot find a first job. Nordström/Skans (2011) show that an unemployment spell of more than 51 days subsequent graduation increases the probability of unemployment 5 years later. By request of the Scottish Government (SG) & Edinburgh Capital City Partnership (CCP), Skills Development Scotland (SDS), Ingeus & the Joined Up for Jobs network in collabouration with DFW2W will do anything in their power to support recent graduates from VET-schools in their Journey to Work. That's why DFW2W in collabouration with their Scottish partners have been running 7 Erasmus+ KA1 project applications. Currently Journey to work 5 and 6 are on hold and or postponed.
Journey to Work EU Good Practice
Journey to Work, a collabouration of Werkcenter Scotland (WS), its Model, the 1-2-3 methodology ("EU Good Practice 2006, 2012 & 2014′) and Dutch Foundation of Innovation Welfare 2 Work (DFW2W), delivers work experience to recent graduates from VET schools as they are asked by potential employers about their work experience before they even have the chance to obtain any work experience.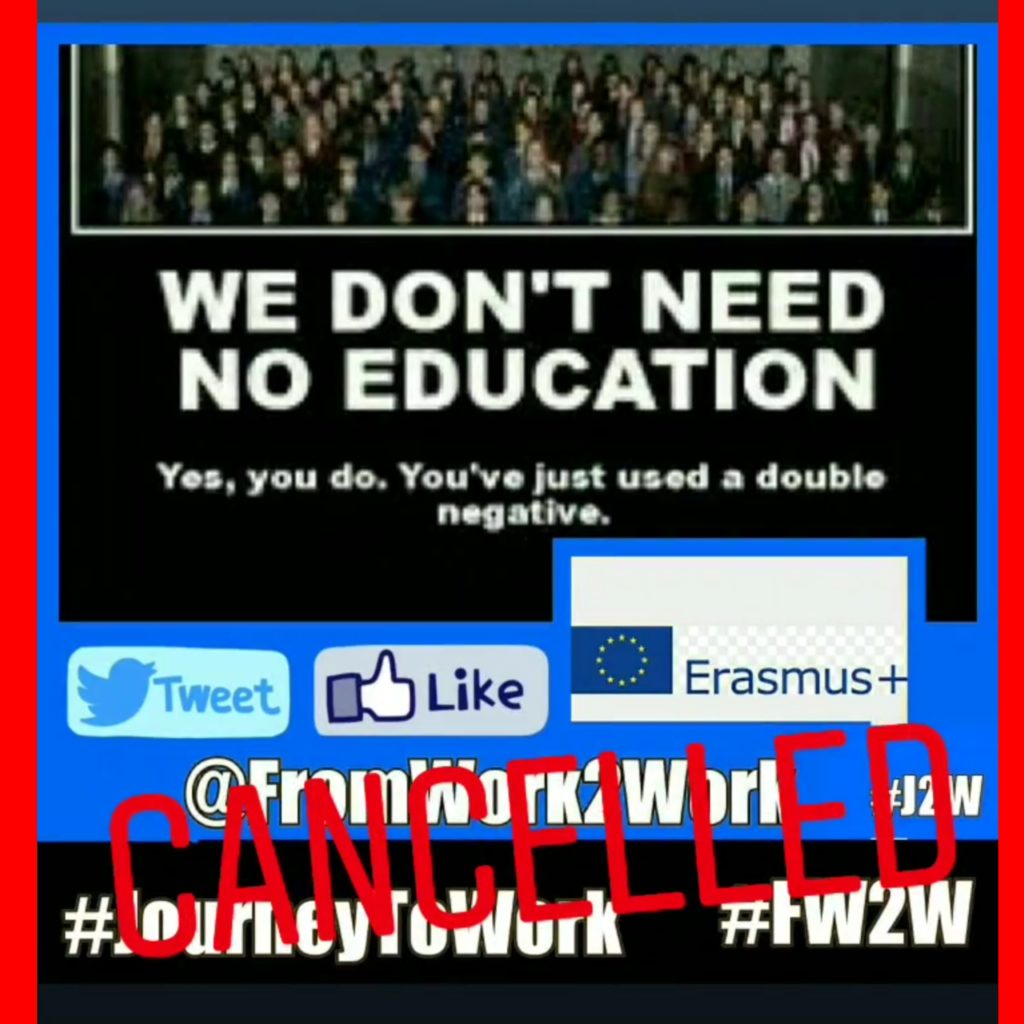 The approach of Journey to Work is to support & guide recent graduates in getting & improving new knowledge, skills & qualifications to facilitate personal development & responsibility to obtain basic work experience & qualifications and/or participation on the local, national and EU labor market. A fresh Italian Partner CPA, joined the project as well, but due to the Corona virus the programme were unable to do the mobilities in Italy. Now also the mobilities to Holland are cancelled.
DFW2W is a very experienced partner and has been our partner in YfEj, From Work to Work, JTW 1,2,3 and 4 and is specifically chosen for their apprenticeships and specialization in the Dutch Rotterdam area and the Green Heart inside the Randstad area. DFW2W has an educational social inclusion approach & they use person-centered planning & action-based learning processes. DFW2W has a very broad range of apprenticeships in the fields of Welfare, Work, Income, Health & Care & Public Affairs. JTW will tackle passivity, youth unemployment in JTW5 and JTW6, aiming to reduce the number of recent graduates without a job on a small scale. We place recent graduates on a structured Journey to Work.
JTW Methodology
The 1-2-3 Methodology of Journey to Work has 3 phases:
Assessment(1): 4-8 weeks (Preparation)
Development(2): 6 weeks (apprenticeship)
Job Mediation(3): 4-20 weeks (Job
Mediation)
In the assessment phase the preparation training Journey to Work takes place. This is required to get the recent graduates from VET-schools ready for the internships abroad, a young person who demonstrates correct behaviour will be rewarded and allowed to the Development Phase abroad (in Holland). This is then followed up by a further intensive Welfare to Work programme delivered by CCP & the Joined Up for Jobs network, SDS & Ingeus on the young person's return to Scotland.
Key success Elements
If you want to know more about the key success elements of this Good practise click here.
For Testimonials, click here:
Keep following our website for more news. We will be back and ofcourse tell you when we will resume our programme. Be safe and stay at home !