The multiplier event Social Media Savvy Part 2 was a big success! In essence the audience was delighted by all the SMS2 products, services and activities produced around being professional and savvy on social media. Certainly because SMS2 is made by young people with young people for young people. The partnership Social Media Savvy – Part 2 is co-funded by the Erasmus Plus Programme of the European Union and on June 28th 2022 the final big event was organised. The multiplier event took place in Leiden, Netherlands and was hosted by the dutch Foundation of Innovation Welfare 2 Work (DFW2W). A day earlier the Dutch SMS2 Days took place at the Hogeschool Leiden.
How SMS2 started?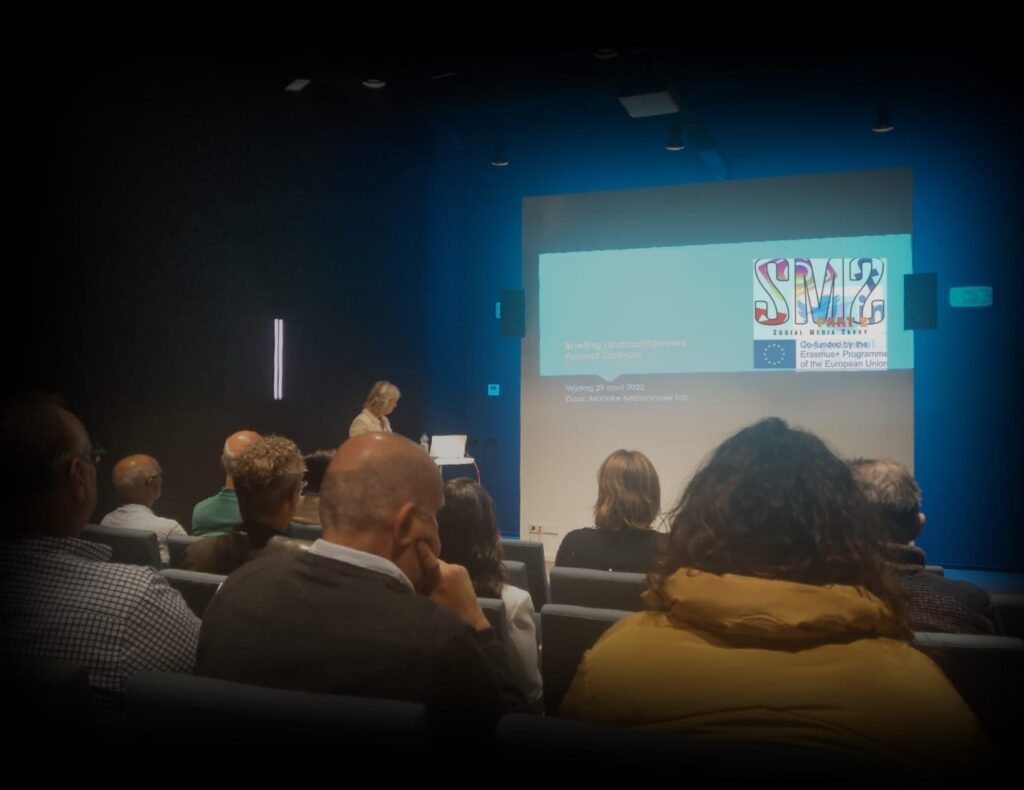 Social Media Savvy – Part 2 (2020-2-UK01-KA205-079587) is the sequel of Social Media Savvy (2017-3-UK01-KA205-046578) and it focuses on the fact that without (any) work experience, what young people usually do have is their smart phone. With their smart phone they can show their own brand: The Brand 'I'. Their branding on line is crucial in their job search or when you are setting up your first business. The best way to give support is digitally!
The agenda was packed with interesting presentations, workshops and activities about Being Professional and Social Media Savvy and we saw a lot of happy (young) people at the event in Leiden.
Brand I
The welcome started with a bang: Pieter van Schie made very clear that the first impression has become more important than ever: 'In 40 milliseconds, we're able to draw conclusions about people based on a photo' Wow!' The impact of messages are 55% visual, 38% vocal (tone of voice, rhythm, infection) and only 7% verbal.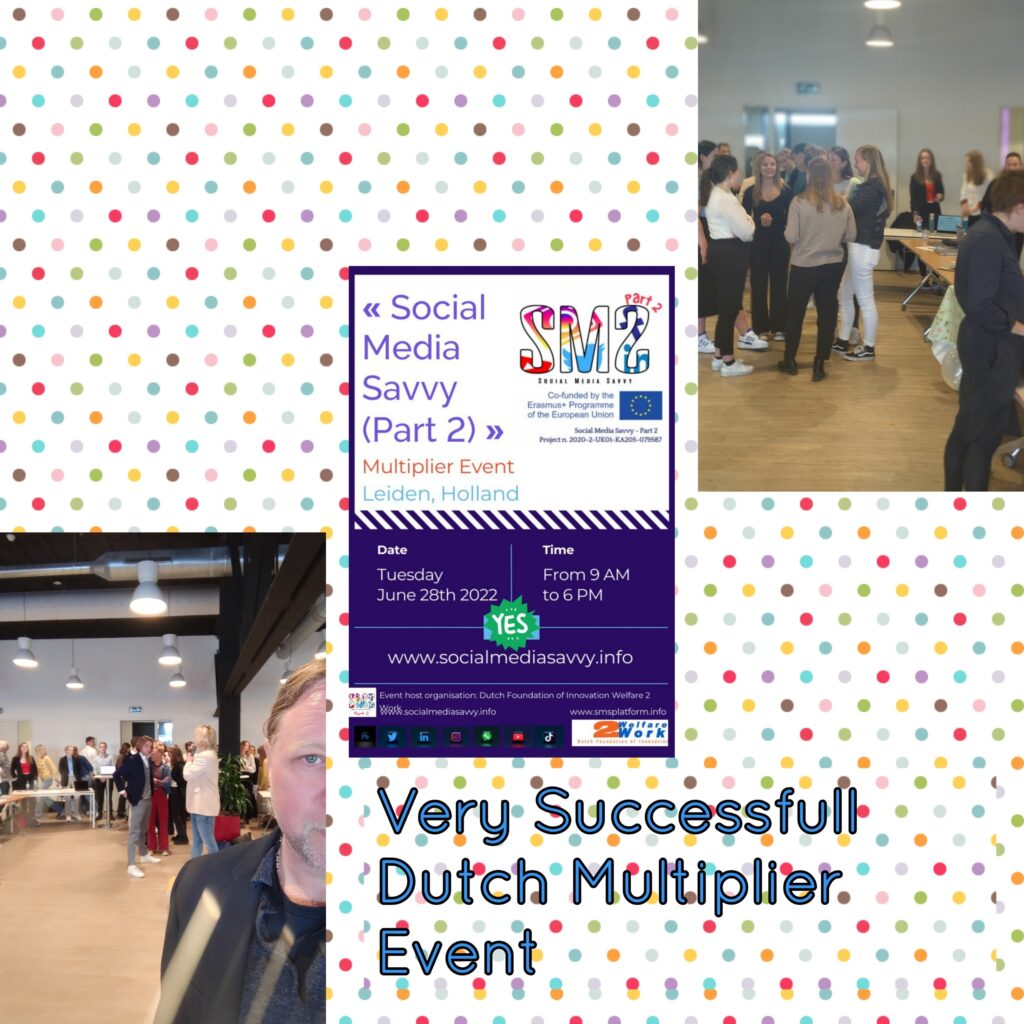 A short introduction to Social Media Savvy
Carla de Vreij, chairwoman of the Dutch Foundation of Innovation Welfare 2 Work pointed out that today norms and values are changing. Having a discussion with other people, while they are staring at their smartphone is no longer rude, or she expects that this will no longer be rude in the future and said that 'It's important that young people use their social media skills more profesionnally': ,,Without (any) work experience, what young people usually do have is their smart phone. And with their smart phone they can show their own brand 'I'. Branding on line is crucial when you are on a job search or when you are setting up your first business. SMS2 took this as a starting point with all the services and products on the SMS platform, to give professional support digitally in a self-education savvy format.
How SMS2 is going?
SMS2 targets young people still in school (potentially to graduate within 2 years) and/or or recent graduates (aged 14-25). As said, the idea is that all those young people have a lack of work experience, but do have a lot of smartphone experience. So we have teached and trained them to own and use their personal brand, the brand 'I': A professional digital identity 'I' as the first step to gain any kind of formal work experience which leads to a substantial improvement of career development. The SMS Platform and SMS Passport are key on this social media savvy journey to work. We go to Desiree v/d Heydt, coach DFW2W to answer the question of this paragraph: How did the SMS 2 event go? ,,There was a real nice SMS 2 spirit. Was a really good vibe. There was a lot of appreciation." ;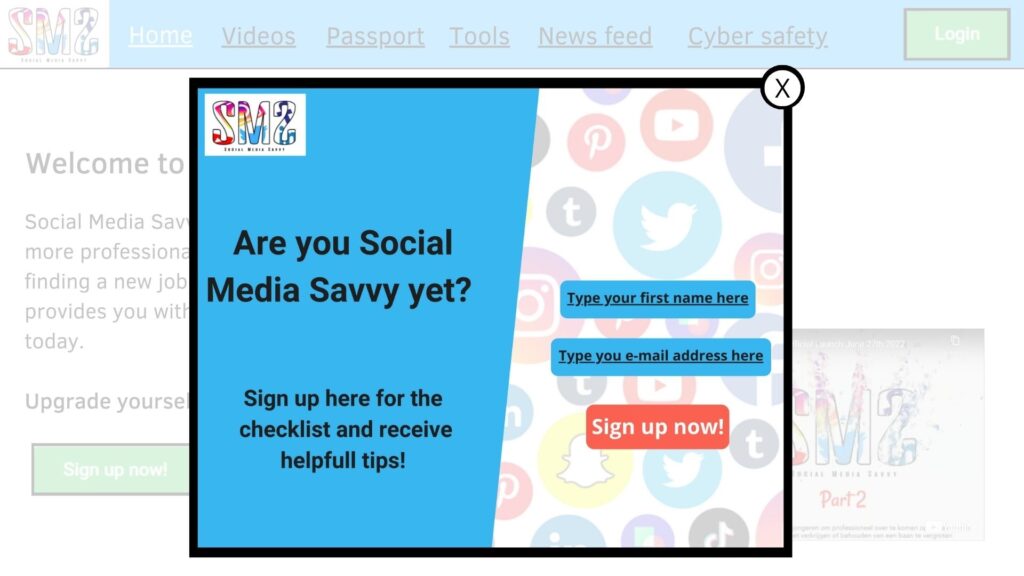 SMS Platform
The developed SMS Platform supports young people to be professional on social media on their journey to work. A few great features of the SMS platform are:
It tracks the best recent social media news in a social media newsfeed; That means that all recent articles c.q. news which relates with social media are shown is this feed. This feed is updates daily and keeps you up to date
Cyber news feed; During the event Craig Reoch breaked down the do's and don't being Cyber Savvy.: ,,One of the first ways you should be keeping your data secure is through the use of strong passwords! Today's digital leglislation and regulations leave us no choice but to take the security of data very seriously, and for that reason, you should be using a strong password". Craig showed the audience the benefits of using an improved password including evidence of keeping your data secure in the event of a breach, and reducing the likelihood of a data breach. He also addressed the cyber News feed, whcih keeps you up to date
12 SMS2 newsletters are published in English, Dutch and Italian on the platform.
The SMS platform is an OER with lots of content: Cyber safety; social media assessment; Books, TV & Movies, Videos & Podcasts; tips, tricks, checklists; advice on job search, profile, resumes and the 'Brand I'. When you login, you get access to more social media training material and free access to a mentor helpdesk. Subscribtion is easy & privacy safe: By first name & email.
SMS Passport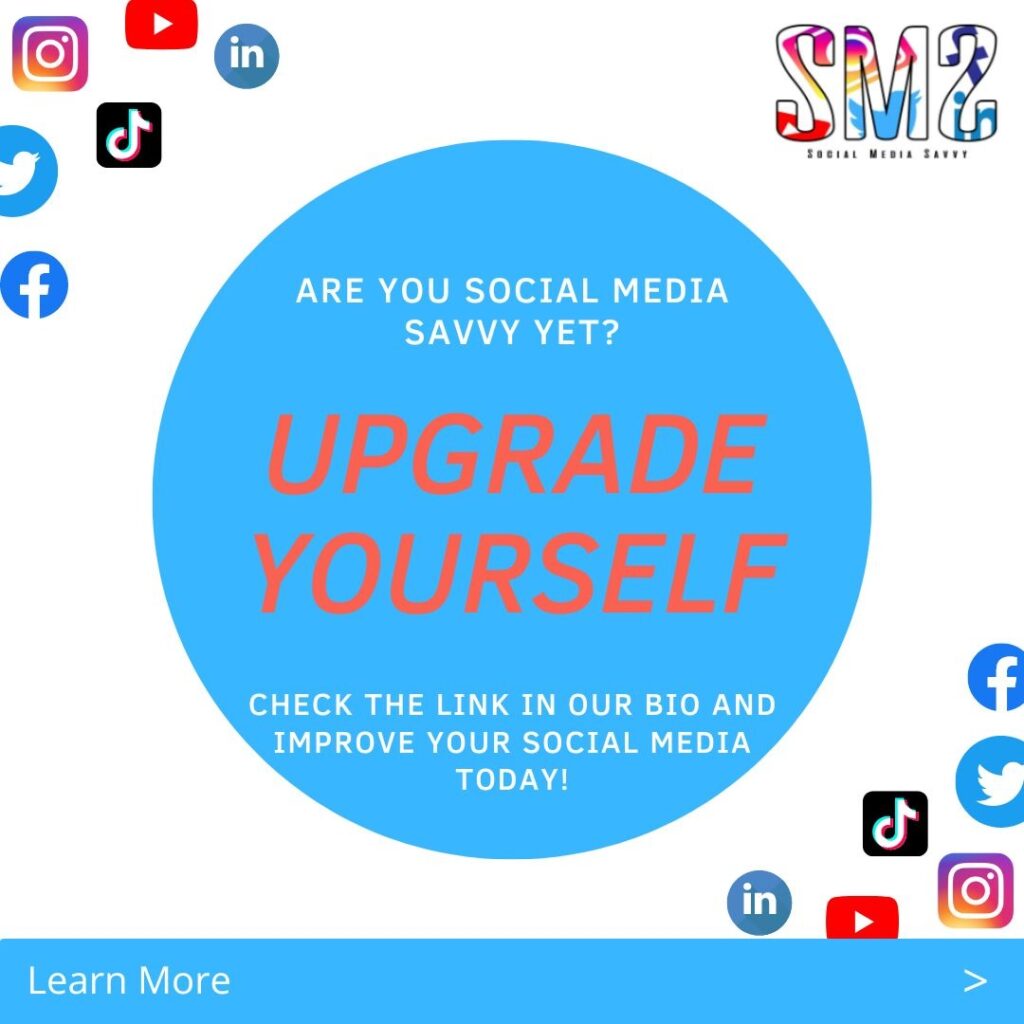 The Social Media Savvy Passport is a digital passport for young people to social media success on their journey to work/entrepreneurial journey. The SMS Passport is an assessment tool that measures how savvy you are at the start. And you can track your progress after you have scrolled on the SMS Platform and self-educated yourself, going to the three e-modules, regarding the Brand I, how to be savvy on social media and much more. The modules are a support tool for the young jobseeker and young entrepreneur to make a strong Brand 'I'.
The SMS Passport does a zero-measurement , upgrades your skills and tracks your progress on social media and when you have done well, you get a SMS certification.
Some testimonials
,,You always want to know what you can do to convince employers to hire you when you are a young person"', said Paul. ,,When you don'have work experience, it's good to know you can upgrade your brand by making a good first impression on social media". ,,I am going to check out the newsfeed, thats for sure", said Sam: ,,I thought that was a nice feature of the platform.'' Michel: ,,I have tried out the sMS Passport and was impressed how simple it was and how easy you can track your progress. I really liked it."
SMS2 Days Hogeschool Leiden
A day before the Multiplier event we also organised the Dutch SMS2 Days. This was a very enjoyable day as well. It was great to get some feedback and advice on how to make the SMS Platform better. One of the problems SMS2 noticed was that despite the constant "communication" through technology that has dominated young lives, young people are at a massive disadvantage because they were less skilled in those soft skills then expected or they were not aware, or not present at all (because they only use social media for fun and don't think about their own brand).
The SMS Platform and SMS Passport have tackled the problem pretty good, was the general feedback of our Dutch young people of the Hogeschool Leiden. They also came with some own ideas, llike using the Tik Tok platform and they made a brand new SMS2 production. Enjoy the (Dutch) Tik Tok video:
Social Media Communication Plan