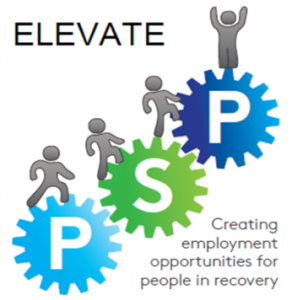 Carla de Vreij , Chairman of the Dutch Foundation of Innovation Welfare 2 Work (DFW2W) was the host during the Elevate Study Visit in Holland last week. Delegates from the Scottish Drugs Forum, Phoenix Futures, and the Scottish Recovery Consortium had a full programme of  quality visits in the Rotterdam region. The DFW2W introduced themselves as an organisation and told about their scope of work and areas of expertise, in The Netherlands and Europe. Several companies and organisations were visited, with support from Welfare to Work expert and consultant Pieter van Schie MA. Below a few highlights: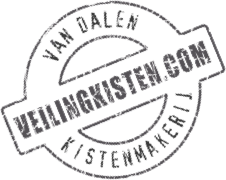 Van Dalen Veilingkisten
Papendrecht – Van Dalen Veilingkisten is a young and specialized company in the Rotterdam region (Papendrecht) and focuses mainly on crafted wooden products. Three years ago, Niels van Dalen, a young entrepreneur decided to begin a start up. First, very carefully from home. The company produces crafty boxing machines.
Soon the boxes were stacked throughout the house and he had to look for a bigger production, and warehouse location. This was found in Papendrecht at the industrial site and soon this property became operational and thousands of chests found their way home and abroad. In order to meet the high demand for boxes, a machine has been developed and purchased that can automatically make headlamps.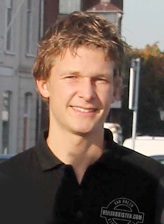 Van Dalen Veilingkisten as a company is a good example of a young entrepreneur who had to overcome a lot of difficulties and along the way giving opportunities to young people with fewer opportunities, and young people with disabilities.
Niels director Veilingkisten, young entrepreneur, giving opportunities to young people with fewer opportunities and young disabled people
Website: http://www.veilingkisten.com/Veilingkisten.html
Opnieuw & Co
Dordrecht – Opnieuw & Co (Again & Co) is a social enterprise, a not for profit recruitment organization. That is, they do not have a profit target but they do need to work professionally and financially profitable to achieve their social goals & objectives.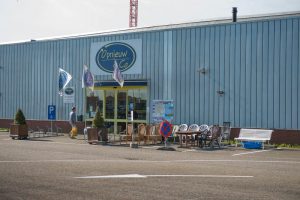 The objectives and goals of Opnieuw & Co are:
Employment opportunities
Realizing social employment and offering students work places to learn and develop. We do that in cooperation with reintegration companies and service providers, such as; Social Service Drechtsteden (department of social affairs and employment of the municipalities of the Drechtsteden – they have to provide benefits to unemployed people) and BAR municipalities, Bouman GGZ / Antes Group, Da Vinci College, Department of Justice and various other relationships.
More than 450 employees work at Opnieuw & Co, of which 150 are employed and the other are temporarily in trajectories. There are also over 90 people working through Drechtwerk at Opnieuw & Co. There are also over 60 volunteers at Opnieuw & Co.
Environment
To stimulate and realize reuse, which reduces waste. We do this in cooperation with HVC / Network and the various municipalities in which we work. On an annual basis, we process over 4000 K of goods, of which more than 91% is recycled.
Poverty reduction
Although the circular warehouses are for a broad audience, we also provide a need by offering an affordable alternative for more expensive new items. On an annual basis, we have 450,000 paying customers in our circuit stores. Customers of foundation fees receive 20% extra discount. In severe cases, we make items available for free through referral agencies such as the social service, health care providers, food bank, and so on.
Mission
Again & Co wants to be an innovative, professional, customer-friendly and financially profitable cycle company, aiming at creating employment and developing skills for people, stimulating and realizing reuse and improving people's purchasing power by providing an affordable alternative for new products.
Website: http://www.opnieuwenco.nl/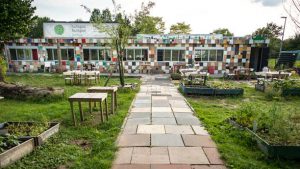 Hotspot Hutspot
Rotterdam – Hotspot Hutspot is an initiative where volunteers form a core element. Children work here in the kitchen and learn about food and cooking. Not because they need to do it, but because they want to do it. They are pleased to find it fun and also get a healthy meal in return. So, creator Bob Richters (recovered) creates a beautiful and safe place for children to come together to grow and grow." He also gives opportunities to people in recovery.
Website: http://www.hotspothutspot.nl/