The project Reconnect has done the final edit and design of the Data Analysis Report. Before we publish the full report we will write about the conclusions of the Teacher focus Groups in part 4 of our ReConnect blog series 'Better Digital Teaching and Learning'. Previously we already published articles, explaining the results of the student questionnaires and Focus Groups (Click here for Part 1 and here for Part 2). Click here for Part 3, explaining the results of the Teacher Questionaires. Below part 4, which explains the Teacher Focus Group results.
Conclusions Teacher Focus Groups
Four Teacher Focus groups from Malta and Turkey, consisting 18 teachers in total were involved in the focus groups. The definition of Success is usually connected to good grades… But teachers conclude that success is connected when you get your students motivated, grab their attention, keep it interesting for your students. The use of Smart Board and NetSport are mentioned as tools which actually help with getting more effective results with teaching and ask more easily questions (NetSport). Overall teachers say that making lessons more fun (4) (e.g. jokes), through games(3), visualize the lessons through video's(4) (e.g. documentaries) story telling(3) and practice by doing (3) (e.g. experiments) will get more engagement and success.
The competition element was also mentioned as a important tool to engage students.

Carla de Vreij
Teacher Challenges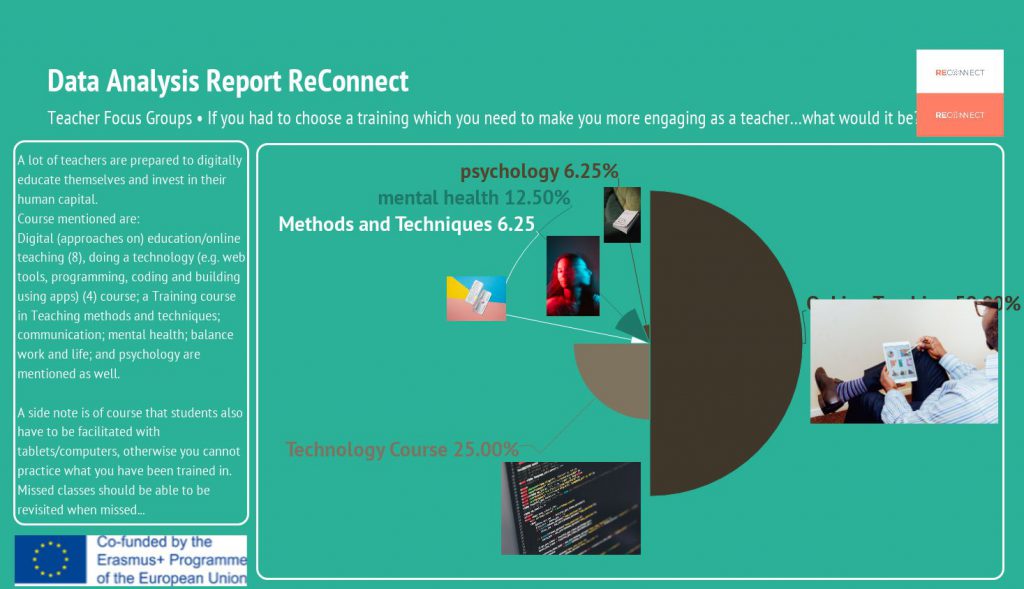 Challenges teachers faced were:
Lack of technological materials (number of good computers, no smart board, sound system difficulties were mentioned)
To get a good relationship with the student: e.g. prejudice about the lesson, or personal issues, lack of trust, unwillingness of the student/ no motivation (attention seeking students)
Too crowded / too big classes: "It's hard to experiment in a crowded place"; "No time for personal development''
Lack of time: "I cannot use technology due to lack of time"
The Syllabus is to vast: "There is not much room for personal development of the student"; "It's hard to make the lesson more interesting if we need to stick to the syllabus all the time"; "What is taught needs to be meaningful, related to the world of the student"
Lack of technological knowledge teachers: Not all teachers are convinced that technology is an advantage: ''Technology also does harm (and creates laziness)''
Teachers say that to engage and connect the lessons to real life, their student life , their interests and passions, make them feel seen, get to know them, make them feel loved, to get them motivated… Tools and instruments that you can use are more computers, using applications (like Magic by Code, Screech), more visual content (e.g. video, animation like English cartoons and images), audio tools and practice by doing (dance games, motivation by example, e.g. conversation lessons, group sessions, activities like games.
About the tools they would use some teacher stress that not having enough time, and the class size remains an issue, even when you can train yourself. Teachers want to invest and improve themselves for themselves and for their student: They want to do a training in: ''Digital education, thus there are a lot of points I want to learn. But we can do it only up to a point; everything remains in theory. You have to transform it to practice. The atmosphere of class, number of them, the physical conditions of the class…''
A lot of teachers want to invest in their own human capital: Course mentioned are: digital (approaches on) education/online teaching and doing a technology (e.g. web tools, programming, coding and building using apps) course. Training course in Teaching methods and techniques , communication , mental health, balance work and life and psychology are mentioned as well. Their aim is be more easily of service for their students. There is a big demand, they need a course on technology/ online teaching.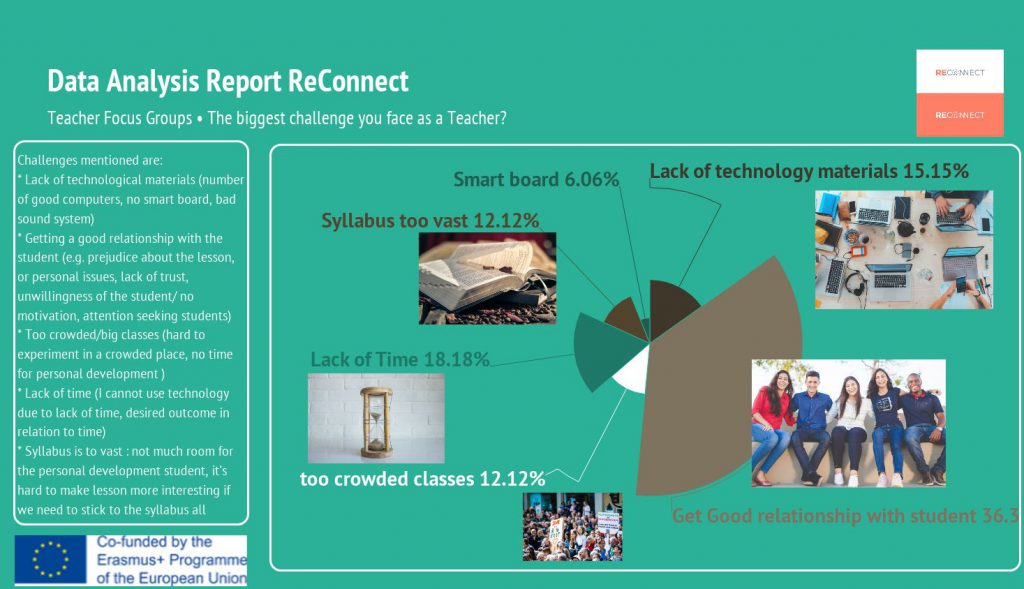 A side note is of course that students also have to be facilitated with tablets and/or computers to be able to work properly, otherwise you cannot practice what you have been trained in. Also that missed classes should be able to be (digitally) revisited when missed. Further they would love to be taught more on tips and tricks to get more equipped to facilitate and support their students.A Maltese teacher says: ''I would like to know how to tackle every situation or at least give them ways to reach out, it would be easier''
The use of video's is mentioned a lot by teachers as an online tool which they currently use during teaching: By using videos students are more engaged and understand better. Using songs, interviews, quizzes and other visuals (e.g. use of the interactive white smart board and presentations (e.g. web-2 tool like e.g. powerpoint). Kahoot, Microsoft cartoon maker, hoplit, padlit and interactive games, such as Kodla Büyü'(an app in which students can see both theirs and their friend's level. The lesson is fun because they learn by playing games. That's why I find it very useful). EBA (2), Morpa Campus (2) were also mentioned as very useful.
Most teachers think the lessons are still engaging and fun without online tools and/or games. But it's clear that a teacher has to present well anyways to engage with his/her students, even when you use OnLine tools. When teachers don't use OnLine tools they would go out of the classroom (outdoor education):''The perfect lesson would be where the students practice everyday life skills.'', do Group work, more games. Access to different tools applications make learning permanent for the students because they have a lot of visuals, and you are able to reach out to more students, virtual tours, interactive sites, laptops, sound systems, videos (YouTube).
A lot of teachers still don't use online tools (due to e.g. lack of information): ''I observe that they listen to the lesson well. Students are mostly interested in virtual tours: ''If I think about taking them on a trip, before going, for example, I bring the students who will join this trip together and watch them these places by virtual tour. This is very attractive for the students and very effective''. Sometimes it seems it would be a good idea that the students study apart at home with a smartphone app including grammar, vocabulary, online studies; of course I can only recommend them.
The teachers would use the following tool s if they could:
More project-based training
Practice by doing (in e.g. a well-equipped lab) (3), or by using e,g, 'DAYNED' app or though virtual reality glasses or virtual tours
Use more online technology: Very important , because the technology will make my lesson more effective and efficient.
Do more Group Work:'' I would make group work in necessity. These are areas which they can learn by themselves: The teacher should be a guide, not the one who gives the information.''
Use of games:'' There are very good games. Playing math games with students is very important, but we have this exam oriented mind''
Elimination memorization event(s)
Make sure there was more time
Make sure there were Less students in class
More extracurricular activities (Syllabus should be in a thematic approach)
More critical thinking(students need to learn how they think and be critical)
More self-assessment and teaching how to give feedback on each other's work.
More Interactive lessons: These are always good lessons but they do not need to include online tools.
Students should not just be taught through online tools, but they need to learn about them: ''The majority of students spend a lot of time online but still do not know how to send an email or an attachment. They have the tools but they are not trained to use them''.